Mom's "Minute Devo"–Monday, November 5th
Grace for the Day and Paper Plates, Part 2!
Hopefully, you were able to read the the 2 Corinthians 12:9 out loud last week!  If not, here it is again, with a twist! When the scriptures were written, it was meant for the words-the Word of God-to be read aloud; so I encourage you to speak this scripture over yourself, so your mouth can say it, and your ears can hear it, and it can really be imparted to your inner being!
Scripture Truth with a twist:  2 Corinthians 12:9 (Amplified version modified from Paul's original.) Wherever there is a blank, insert your name to make it personal: 
 "…but Jesus says to me,_____________(insert your name here), "Father God's grace is sufficient for ___________, [the Father's loving kindness and mercy are more than enough-always available-regardless of the situation; for Jesus' power is being perfected [and is completed and shows itself most effectively in my, ___________ weakness." Therefore, I, ___________, will all the more gladly boast in my weaknesses, so that the power of Christ [may completely enfold me,___________ and] may dwell in me, ___________." 
It may seem cumbersome to read scripture in such a manner, with one's own name inserted into it, but I've found that it changes my perspective on how I "hear" what the Word of God is saying and how I perceive myself in relation to the Word!
When thinking about Grace for the day, the hour, or the moment, I am reminded of an old hymn written by Annie Johnson Flint entitled, "He Giveth More Grace." The music for the hymn is worth googling too!  If you read about the poet's life, one could think, "but I'm not going through anything like she did! Why am I struggling so much?" It really doesn't matter what our burdens or battles are, but that we take them to the one who can carry them for us and give us the GRACE WE NEED just exactly when we need it!!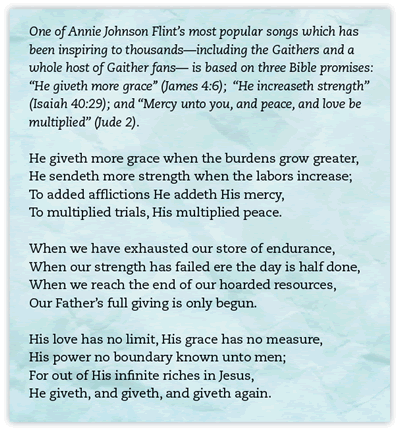 Let's make that our prayer this week!
Prayer:  God, I thank you that you give more grace when the burdens grow greater; that you send more strength when the labors increase….
For out of YOUR infinite riches in Jesus, YOU giveth to me, and giveth to me, and still giveth again!  
Paper plates part 2, you wonder?  Another permission I was given was to serve peanut butter on those paper plates for dinner.  YES, for dinner!!  (Unless one is allergic to nuts, in which case it can be grilled cheese or tuna fish 🙂
---